Rocket Family Upper Extremity Clinic
(Toronto Rehabilitation Institute University and Lyndhurst Centres)
The Rocket Family Upper Extremity Clinic has been open at University Centre for some time and we have recently opened a second location at TRI-Lyndhurst Centre. Our clinic brings research, best practice and clinicians together to offer evidence based, outcome focused outpatient treatment for people with impairments of the upper extremity due to neurological problems. Both locations are clinical/research partnership to accelerate the development of innovative practices to optimize upper limb functional outcomes for people with neurological conditions.
Services provided are not usually covered by OHIP and in most cases, are covered by third parties such as motor vehicle insurance, the Workplace Safety and Insurance Board (WSIB), extended health benefits and/or self-pay.
Target Population:
We assess and treat individuals who have a neurological condition that has resulted in changes in their upper extremity function.
Individuals with incident related neurological impairment of upper limb(s) (primarily spine conditions) at any stage during recovery
Individuals who are not eligible for OHIP-funded intense outpatient neuro-rehab
Individuals with neurological upper limb impairment due to acquired brain injury (TBI, stroke or tumor)
Individuals recently discharged from OHIP-funded Neuro-rehab programs in the GTA, looking for UE neuro-rehab with potential to respond to therapy
With any level of return of movement , who, after screening, would be considered a candidate for any of the treatments listed below
Who are motivated and cognitively able to participate in an intensive treatment regimen which involves homework
* Referrals are centrally reviewed and patients are allocated to the clinics based on diagnosis. Expertise in stroke and hemiplegia are present at the University Centre location, while and expertise in spine related UE neurological deficits is present at Lyndhurst Centre.
Admission Criteria:
Medically stable
Diagnosis of Neurological Upper Limb Impairment related to the primary or secondary injury (spine conditions)
Potential for improvement with rehabilitation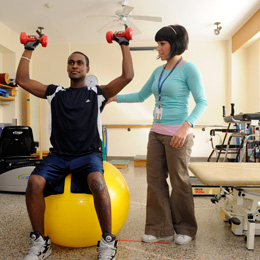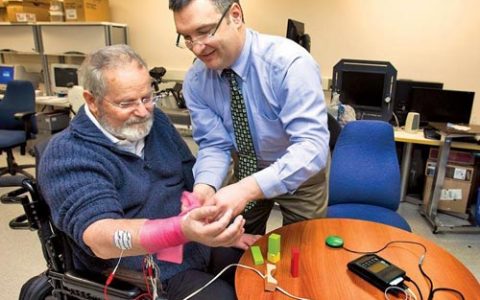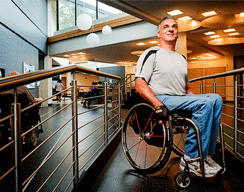 Services:
Services will be provided by Registered Physiotherapists and Occupational Therapists and are, in most cases, covered by third parties such as motor vehicle insurance, the Workplace Safety and Insurance Board (WSIB), extended health benefits and/or self-pay.
Rates:
All treatments and assessments will be offered at a rate of $120.00/hour (*some therapies will have an additional charge to the hourly rate)
List of Therapies/Treatments:
Functional Electrical Stimulation including the Myndmove Technology*
Constraint Induced Movement Therapy
Activity Based Restorative Therapy
Peripheral Nerve Somatosensory Stimulation and Massed Practice
Transcutaneous Epidural Stimulation
Task Specific Training
General Rehabilitation of the upper limb
Management of Chronic SCI UL Problems
Group Programming
Neuro-Developmental and Bobath Therapy
Imagery
Mirror Therapy
Armeo™ Robotic System
A referral form can be found here.  
Outcomes Assessment:
We use state of the art outcomes assessments for all patients such as:
GRASSP: V1, V2
GRASSP – Myelopathy
TRI Hand Function Test
Wolf Motor Function Test
Fugl-Meyer Test
Electrophysiology Assessments
Sukhvinder Kalsi-Ryan (BScPT, MSc, PhD)
Rocket Upper Extremity Clinic – Lyndhurst Center
Scientific and Clinic Lead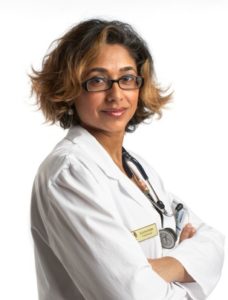 Dr. Kalsi-Ryan, is a Clinician Scientist in the field of upper limb assessment and recovery and spine pathology at TRI-UHN and is also Assistant Professor at the University of Toronto, Department of Physical Therapy. Her research is oriented to establishing methods to quantify neurological change after injury and studying neuro-restorative methods to enhance and optimize function for those with neurological impairment. Dr. Kalsi-Ryan's lab at TRI-LC is called, The Upper Extremity NeuroRestorative and Innovations Lab, which is embedded in the Rocket  Family Upper Extremity Clinic at Lyndhurst. This environment offers a research platform where clinicians can study new innovations directly on patients in a real rehabilitation environment. The lab provides a platform for not only the development of new and novel treatment approaches, but also research related to knowledge translation and uptake of new discoveries. Her additional interests include: outcome measurement, upper limb recovery, traumatic and non traumatic SCI, quantification of neurological disorders.
Debbie Hebert  (MSc)
Rocket Upper Extremity Clinic – University Center
Clinic Lead
Debbie Hebert is a corporate professional leader and Practice Leader (Occupational Therapy) at Toronto Rehab Institute, UHN, as well as an Associate Professor in the Department of Occupational Science and Occupational Therapy at the University of Toronto. Debbie has been working in the area of neurorehabilitation over the past 38 years with a special interest in rehabilitation of occupational performance and upper extremity function following neurological impairment.  Current research areas include upper extremity neurological rehabilitation (e.g. robotics, FES), clothing and accessory design for persons with neurological challenges and cognitive intervention.