Dr. Jousse Lecture Series
Welcome to the new Dr. Albin T Jousse Lecture Series in collaboration with Best Practice Forum, which is sponsored by the Rehabilitation Engineering Laboratory, the Spinal Cord Rehab Program, the Neural Engineering and Therapeutics Team, and Toronto Rehab.
The purpose of this lecture series is to provide a venue for scientists, physicians and clinicians working in rehab settings as well as students, consumers and their caregivers to share knowledge, present the latest research findings and participate in a dialogue on what it means to live with disability. The lectures will be 45 minute long followed by 15 minutes of questions.
Coordinator of the Dr. Albin T. Jousse Lecture Series is Dr. Kristin Musselman . If you have any comments, concerns or would like to present please send us an email at kristin.musselman@uhn.ca.
The series is currently in its 11th season.

Dr. Allan Levi – Novel treatment strategies for spinal cord and peripheral nerve injury
May 30, 2019 @ 12:00 pm

-

1:00 pm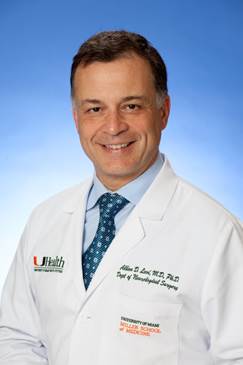 About the Speaker
ALLAN LEVI currently serves as Chairman of Neurosurgery at the University of Miami (UM) MILLER School. Dr. Levi combines a busy neurosurgical spine and peripheral practice and an active, complementary clinical and basic translational research program. The department is also home for staff scientists at the Miami Project to Cure Paralysis. Our clinical and research divisions are internationally recognized. Our comprehensive spine service includes the latest surgical technologies such as minimally invasive spine, robotics and complex spinal reconstructions. The majority of our spinal cord and spine research is powered by the groundbreaking research of our world-renowned scientists and investigators who work within The Miami Project. Our cranial neurosurgeons perform minimally invasive, endoscopic and skull base approaches to resect both benign and malignant tumors of the brain and collaborate with UHealth Otolaryngologists and Sylvester Comprehensive Cancer Center's Radiation Oncologists to provide multidisciplinary care. Our top-notch vascular and endovascular colleagues can cure vascular diseases with either open or catheter-based approaches. Finally, our functional, neuro–trauma, peripheral nerve and pediatric services are also major strengths of the program. Our experienced faculty participates in clinical trials, publishes peer-reviewed articles and operates one of the largest neurosurgical training programs in the country.